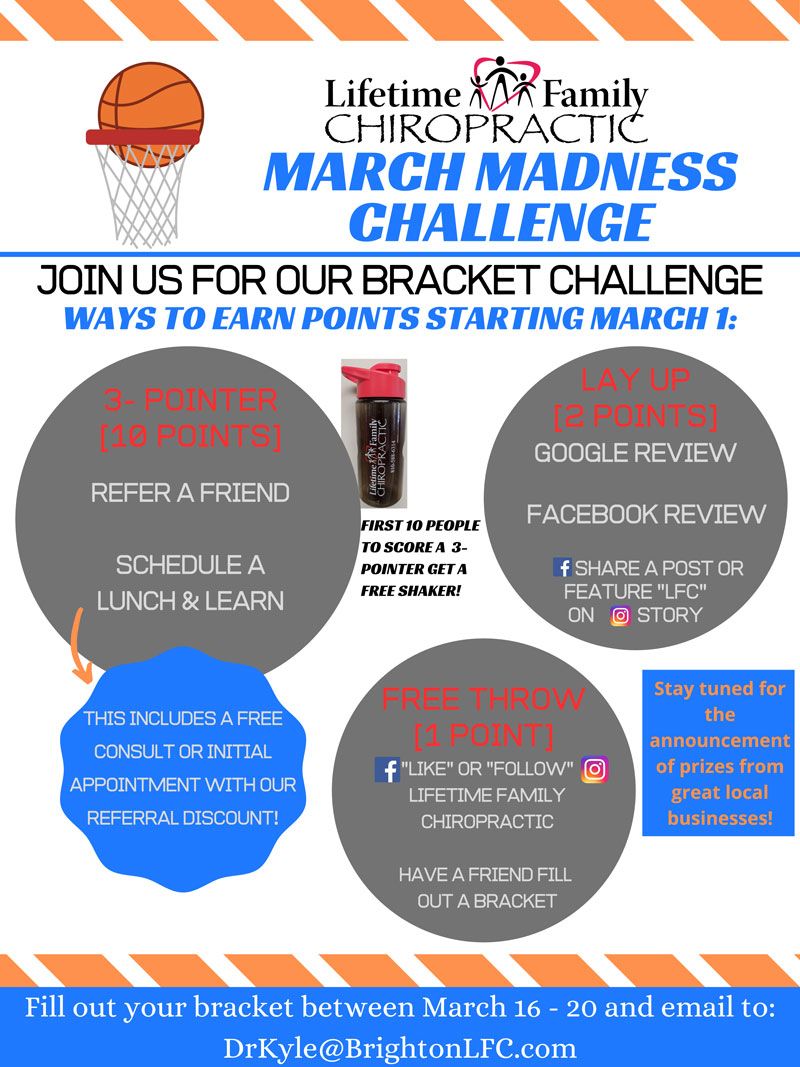 Our first annual March Madness Bracket Challenge is here! This surely will be one of our favorite events – and our practice member's favorite too. Many people don't follow college basketball (like, at all) but we still have fun AND win!
So – let's start by giving you all the details….
Brackets will be emailed to you Monday, March 16th. Fill out your bracket and return it to us by Friday, March 20th by noon. You can also fill one out here in the office. If you'd like to invite someone to fill it out too… have them CONTACT US so we can get their information and send them a bracket also! Then use your favorite method for picking teams… our favorites have included: Which place would I like to visit more? Which mascot do I like better? Which colors are my favorite? Like we said, you don't have to know anything about college basketball to play!
We will tally all the points and keep you updated throughout the tournament on how you're doing.
The people with the TOP FIVE point totals will win prizes. (prizes announced throughout March)
Two words.… BONUS POINTS! You can earn bonus points that add to your point total a few ways. And these will start already March 1st! Check some of these off your list to go into the tournament with a few points already.
There are 3 shots at bonus points (Oh, that's a good pun!):
The Free Throw (worth 1 bonus point)
'LIKE' us on Facebook or 'FOLLOW' us on Instagram
Have a friend fill out a bracket. You forward them a bracket – they fill it out – they send it to us…. Boom, that gets you a point. You can get up to 10 points for this one… so forward away!
The Lay Up (worth 2 bonus points)
Recommend & Write a Review on Facebook
Write a Review on Google
Share an LFC post on Facebook or feature LFC on an Instagram story (up to 6 points on this one)
The Three-Pointer (worth 10 points)
Refer a Friend – Do you have a friend or family member you think could benefit from chiropractic care? Or a friend who has tried everything else and is just tired of suffering? Or maybe someone thinks they might be interested but has more questions for us. This is the opportunity – during the month of March, if a friend or family member visits us for either a free consultation to ask questions and see if this is a good fit or gets an initial chiropractic evaluation (with your referral discount) — you will get 10 extra points for March Madness!
Schedule a Lunch & Learn – does your workplace bring in speakers to talk about health and wellness topics? Dr. Kyle & Dr. Nav are frequent speakers at small and large businesses and present on several health and wellness topics – some of the most requested topics are:

Keys to a Healthy Immune System
Conquering Stress
Secret to a Better Night's Sleep
Sitting is the New Smoking-- How to be Fit while You Sit
Boost your Sport and Overall Performance
If you'd like to schedule a Lunch and Learn at your work (and we bring lunch!) please contact Dr. Kyle at 810-656-0539 or drkyle@brightonLFC.com to schedule… and earn 10 bonus points!
– Lifetime Family Chiropractic
---
BRACKET SCORING SYSTEM
POINTS PER CORRECT WINNER
Round 1 | 1 point
Round 2 | 2 points
Sweet Sixteen | 4 points
Elite Eight | 8 points
Final Four | 16 points
Championship | 32 points
OFFICE HOURS
---
Monday
9:00am - 12:00pm
2:00pm - 7:00pm
---
Tuesday
2:00pm - 6:00pm
---
Wednesday
9:00am - 12:00pm
2:00pm - 6:00pm
---
Thursday
9:00am - 12:00pm
2:00pm - 6:00pm
---
Friday
9:00am - 12:00pm
---
Saturday
Closed