Chiropractor Melissa Osborn D.C.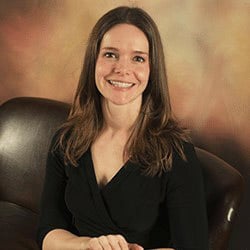 Hello and welcome to Lifetime Family Chiropractic! It is our hope and desire that you feel welcomed and at home right from the start. If a friend told you about our office, you may have already known we are a bit special. When you walk through our doors we hope you see the referral board (we love referrals and get a lot of them). We see lots of families and as you come in further you see lots of pictures of healthy children and those on a steady journey towards better health daily. This is who we are.
Let me share a story with you that I hope will inspire you and give you the opportunity to feel a little of our hearts. When Brynnlee first came into our office she was 2 months old, a beautiful little baby, just ready and willing to make the most out of this new found life. But something was wrong. Brynnlee wasn't exactly a happy or content baby. Brynnlee had suffered a traumatic birth in which the cord was wrapped around her neck and she had seizures just after birth. Doctors had diagnosed a right posterior brain injury and even told mom and dad that cerebral palsy was a likely diagnosis but too early to be sure. Can you imagine the fear and heartache? She was agitated, irritable, and "Get me out of this body!" is the resounding I got with a detailed and thorough chiropractic exam. Mom and dad had a decision to make. Will Chiropractic really help our child? What should we do? And through all the questions and fear, they decided to take action in the care their daughter so desperately needed.
Fast forward 3 months. Brynnlee and her mom never missed a visit, they were committed to seeing a different end to her story. Today, Baby Brynnlee (as she is called in our office) is a happy, energetic, calm and attentive little lady! The doctors say she is "normal" and she is completely off her phenobarbital medication. She is what we would call a chiropractic miracle! But who is the real hero of this story? You may say mom and dad for the courage and commitment it took to pursue this path of the unknown. You may say Dr. Melissa for providing the pathway to healing through the chiropractic adjustments. But the real hero in this story hasn't been introduced yet. The real hero in this story of victory and life for Baby Brynnlee is Molly! Who is Molly, you ask? Our hero, the woman who took the stand for the change she knew could happen. She referred Baby Brynlee into our office! Thank you Molly for having the courage and strength to pursue chiropractic for yourself and your family and for changing Baby Brynlee's life forever!
Maybe you will be our next hero. Maybe not.
Every day my passion grows from taking care of extraordinary families and helping others reach their true health potential. Don't give up hope. Don't give up on yourself. We look forward to getting to know you and welcoming your family into ours.
Lifetime Family Chiropractic is here to serve you and your family. Throughout your experience in our office you will receive a constant stream of the most current information available in chiropractic and health care today from Dr. Melissa and her team. We offer a unique experience that revolves around education and compassion. We offer this open and honest information to empower you so you can make better, more informed health decisions. It is Lifetime Family Chiropractic's goal to not only improve your body, but also improve your mind, spirit and overall health.
Lifetime Family Chiropractic is not just another chiropractic clinic in Brighton, MI. We are focused on wellness not only in the Brighton-Howell area, but all of Livingston County. In our office we cater to families and children. We offer specialized care that is tailored to each and every person who walks through our doors.
At Lifetime Family Chiropractic we promise to serve you beyond your expectations, challenge you beyond previous limitations and enlighten you with insights that will not only help you change your health, but your life as well. We look forward to meeting you and seeing how we can help you achieve your individual health goals through natural chiropractic care.
Optimal Spine Equals Optimal Health!
OFFICE HOURS
---
Monday
9:00am - 12:00pm
2:00pm - 7:00pm
---
Tuesday
2:00pm - 6:00pm
---
Wednesday
9:00am - 12:00pm
2:00pm - 6:00pm
---
Thursday
9:00am - 12:00pm
2:00pm - 6:00pm
---
Friday
9:00am - 12:00pm
---
Saturday
Closed